Maybe it's just me, but from time to time I find myself faced with a "good" problem! Have you ever had one of those?
You know, something that is what you're aiming for, a direction you are trying to move in, but in order to do it you need something that maybe you don't have!
When I was a kid and I would have pain and there was nothing physically wrong with me my parents would tell me, it's ok Clay they're just growing pains!
We would pray and then after a while I would feel better.
And that's where we find ourselves now!
Almost three years ago we moved to Gracias, Lempira and began working with rural pastors all throughout the mountains, teaching them and learning together how to study the Bible and preach biblical sermons!
We were in need of a vehicle that would allow us to accomplish all the driving in the rough mountain trails day in and day out, so we asked God to provide and he provided people that believed in us and what God was doing through us and they gave generously towards helping us build Gods Kingdom here in the mountains of Western Honduras!
Since then we have driven more miles in our mountains, going to study with and encourage our pastors, to have driven around the globe one and a half times!!!
Fast forward three years; God had grown his Kingdom in us and in our pastors! We have 70 pastors studying with us over 3 different levels, 10 Honduran teachers teaching in the Bible Institute that have been brought up out of the same classes that they are now teaching!
God is soooooo good to us! God has also raised up a branch campus of the Bible Institute that is completely planned, organized and run by Hondurans with no gringo staff! What success!!!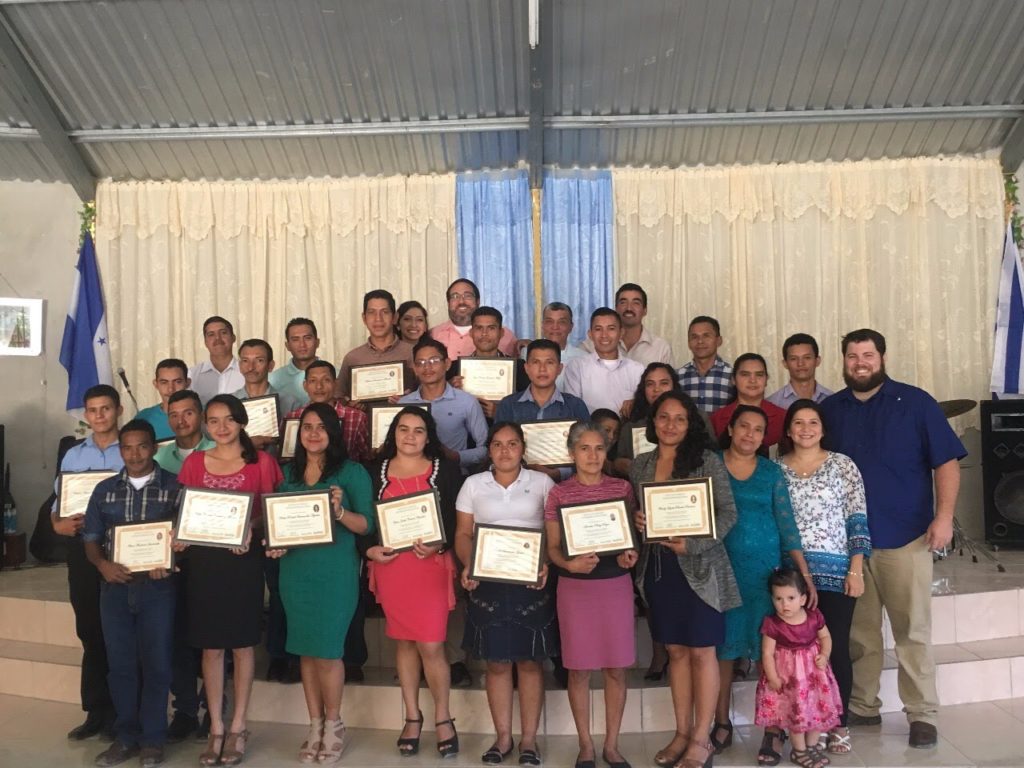 We came to Gracias with one child on the way and now we have two to hold in our arms!
All the while God had been testing and expanding our faith as he expands our ministry! A few months ago we saw the need for another vehicle to be able to continue to minister to pastors and churches here all throughout our mountains.. we had our beloved Ford F-150 that although aged and no longer suitable for what we needed from a vehicle God had a plan for..
another awesome missionary family that we partner with in the Bible Institute told us about the need they had for a strong pick up truck to work their farm and their construction projects! They also were trying to sell a vehicle that is ideal for the ministry of pastors training! It's a landcruiser hzj75!!! If you don't know what that is let me introduce you… it's a Diesel 6 in-line cylinder 4.2 liter engine, 13 seater, 4×4 mountain machine!!! Basically an off-road church van!!!
We were able to trade with the other family the Ford for the Land Cruiser but because the Cruiser is worth much more we need to pay them $7000 to get this vehicle into working readiness(finish paying them for the value of the truck and fix it up mechanically for our use)!
The "ambulance"  will be the PERFECT vehicle for the work that God has called us to!
GOD ALWAYS PROVIDES!!!
So now i'm asking YOU! Let God work through you just like he is working through us! Help us continue to minister to pastors and churches here that many others are not willing or able to reach!!!
If you are willing and able to help please donate here, we are a tax deductible, non profit organization that is committed to building Gods Kingdom in the hearts and lives of people! We promise to be faithful with whatever God lays on your heart to invest in his kingdom!
You can choose to give securely online here choosing the "donate to a missionary" menu and filling out your information,
-OR-
Mail in your checks to:
The Foundation
PO Box 560233
Orlando, FL
32856-0233 USA
Please make the check payable to: The Foundation
and don't forget to put Clay Powell in the memo line!!
Thank you for helping us to build Gods' kingdom here in Honduras!!!!